04 May

How To Create The Perfect Pool House

Pool weather is finally here – time to take a dip and relax in your outdoor oasis. The only thing that could make it any better, is having a convenient place to dry off and enjoy shade, or clean up before heading back inside.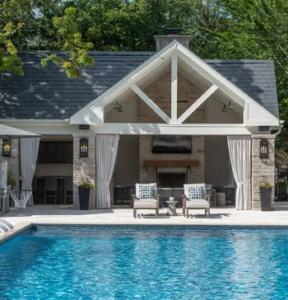 A pool house can do all that and more when you work with Balducci Additions & Remodeling. A pool house is a great way to hide all the unsightly plumbing, pump, and chemicals a pool requires. But by adding a covered porch, it can also become a perfect spot to relax and take a break from the sun. By adding a small overhang this allows for a spot for lounging and dining. If you added a fireplace, you could enjoy the space year-round.
Convenience is Key – Including a bathroom in your pool house is ideal. This keeps the pool day going without constant trips inside for potty breaks.
A pool house can easily provide the exterior wall space needed for a shower. Rinsing off after a dip helps extend the life of bathing suits and also keeps salt or chlorinated water from drying out your skin.
When building or renovating a pool house, work with your builder to find ways to tie it in architecturally to your main home.  Call the experts today at (804)730-0982!