17 Aug

Concrete Countertops: Kitchen Design Trend

Posted at 18:58h

in

Bathroom

,

Bathroom Remodel

,

Bathroom Renovation

,

Design

,

Design Trends

,

Home Design

,

Home Improvement

,

Kitchen

,

Kitchen Countertops

,

Kitchen Remodeling

,

Kitchen Renovation

,

remodeling

0 Comments
Concrete Countertops
Renovating your kitchen and deciding on a countertop material? Want to avoid the ever popular granite countertops? You may want to consider the latest trend in kitchen design: concrete countertops. Concrete countertops are perfect for those looking for a unique design element in their kitchen renovation design.
Concrete countertops are made from a general purpose mortar mix of three parts sand to one part cement. Every concrete countertop is made in a custom made cast, making it one of a kind. They are often precast in molds to be formed and cured under controlled conditions; however, some fabricators prefer to cast the countertop on the site.
Not sure if concrete countertops can compliment your kitchen's decor? Concrete countertops can perfectly accompany industrial, contemporary, and rustic style kitchens. Concrete can be warm and rustic, sleek and elegant, or very ornate. With the endless customizations, concrete countertops can be suited for almost any style.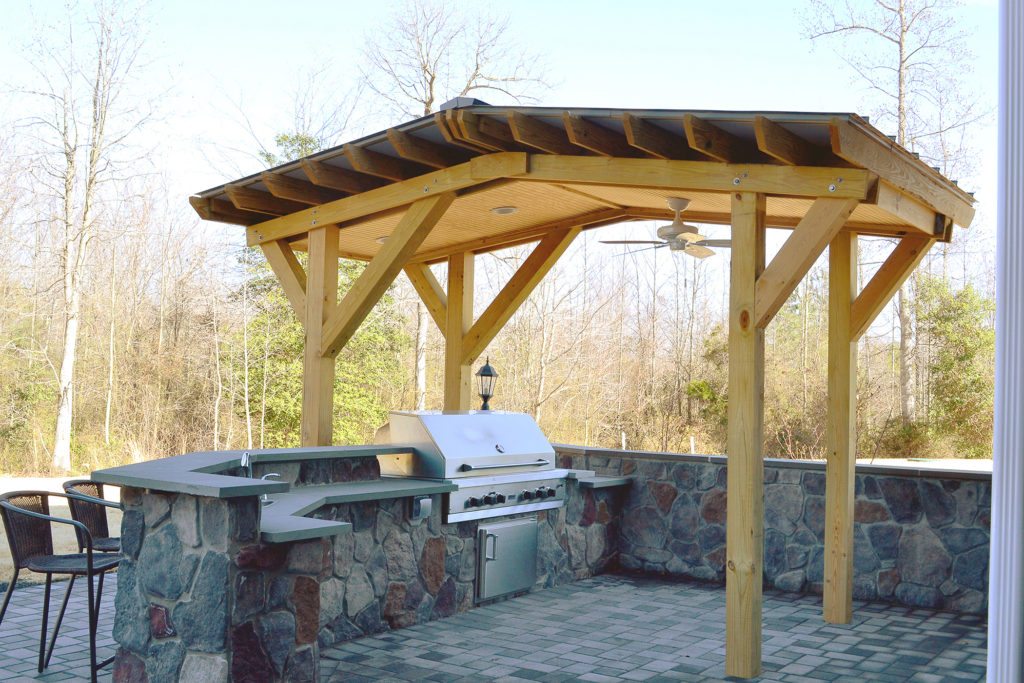 Customized Countertops
The main attraction to concrete countertops is that it is completely customizable. Not only is the overall shape custom made, you can also incorporate custom colors and features to make the concrete countertop true to your personal taste.
Custom Colors
Concrete countertops can come in an unlimited variety of colors and have several options of ways to dye it. Colored concrete can be created by integral pigment, acid staining, or dye. Each process creates a completely different look and style, so it is important to speak with your installer and/or project manager to help determine which process is right for you. To keep concrete countertops from looking too sidewalk-like, many installers mix in different colors with the concrete. Others simply experiment with a combination of colors and can even create stunning designs.
Built-In Features
Just as it is easy to incorporate custom color designs in your concrete countertops, it is also easy to add built-ins, such as drainboards and trivets. Instead of choosing a sink from a manufacturer, a one of a kind sink can be set in place with intricate curves and angles added to the design, making it the "wow" factor of the room.
Personal Momentos
Personal touches can be made by incorporating personal items such as seashells, broken china pieces, coins, or glass pieces, petrified wood, or mosaic inlays.
Maintenance of Concrete Countertops
In order to ensure full enjoyment of your concrete countertop, choosing a high quality sealer is essential. There are two main types of sealers: penetrating sealers and topical sealers. While there is no one perfect sealer, it is important to address your expectations of a sealer and discuss them with your installer or project manager.
Although concrete is rugged and durable, some scratching can occur. While scratching is possible for every concrete countertop, darker colors are more susceptible. Thus, it is important to steer clear of aggressive cleaners and to avoid too much scrubbing. This can eventually wear down the sealer.
While concrete countertops may be considered trendy, we don't expect them to go out of style in the near future since they are an overall neutral material. Not only is concrete becoming a popular countertop material, it is also gaining popularity in other parts of the kitchen and in the bathroom. Concrete is being used as floor tiles in the kitchen, and as a seamless vanity top in the bathroom. The possibilities are endless when it comes to concrete.